Food in Mérida and the Yucatan
AKA Why I am a terrible food blogger.
I was in Mérida in 2008. At the time I was at the beginning of what became a trek across the Yucatán peninsula into Chiapas, Oaxaca and the regions around Mexico City. It was a great trip. But my time in Mérida was short because I wasn't ready to sit still. But even with the need to move, I could see the place. Now, I'm older, slower and determined to really dig into the city. I didn't.
Plaza Grande, at the heart of of the old town is exactly what you'd want from a grand old colonial city. It is large, there are massive trees offering shade and hawkers are around to sell everything from hats and hammocks of questionable quality to delicious snacks like kibis.
The word kibis might look familiar if you've ever been to a Lebanese restaurant. Kibbeh are a delicious Lebanese snack. In the 19th century Lebanese immigrants arrived in the Yucatan with their kibbeh, an appetizer shaped like a tiny Canadian-football shaped and made of bulgur wheat. Over time, local tastes prevailed and local ingredients like habanero chile peppers start being incorporated. and now they're as Yucatecan as Edam cheese.
< sound of record scratching >
Yes, Edam cheese is another culinary adventurer. It left Holland and made it's way to the Yucatan where it found many, many local fans. Now it is in everything. Even desserts.
Here is a photo of a marquesita.
The marquesita is a delicious dessert sold from carts throughout the region. Stroll along the grand Paseo de Montenejo in Mérida and you'll find them. Watch the sunset on the beach at Celestun and you'll find them. That's where I took that picture. I ordered the queso y Nutella. Yes, Edam cheese grated directly from the big red ball onto the thick crepe-like waffle that's been smothered in in Nutella. It's rolled up into a cone and given, generous spread of Nutella, and then sprinkled with more cheese. It's not bad. The salty cheese balances the sweetness of the Nutella. The crunchy waffle cone is awesome. I didn't even miss the ice cream.
Getting back to Mérida and kibis, kibis are kibbeh after a century of hanging out in the semi-tropics surrounded by Edam cheese, very hot chile peppers and people who like snacking. Both kibis and Edam cheese and hazlenut paste waffles are solid examples of why everyone out there fighting a holy war trying to maintain food purity needs to take a deep breath (or bite) and relax.
You'll notice that for a page about food, this one is a little light on the plate when it comes to images. That's because I'm a terrible food blogger. I don't have any pics of kibis. Or Edam cheese. Or Tacos al Pastor.
Tacos al Pastor is another Mexican classic. It's also another Middle Eastern transplant. You only need to look at the cooking setup — meat stacked high on a massive spit, vertical broiler charring sections of the meat cone — and you know it's a not-so-distant-cousin of the shawarma. I don't have a photo of this either...
...fine, have a image. Here's a publicly-shared GIF of an al Pastor spit.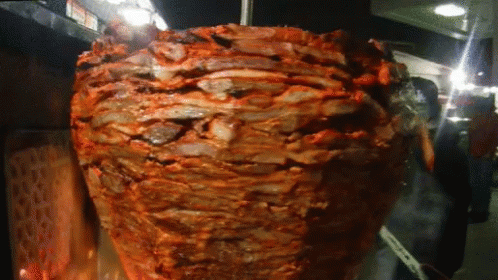 You see, I'm typically five bites into my dinner before it occurs to me to take a photo.
Rather than accepting this as a fault or as a sign of gluttony, I prefer to think of it as the ultimate sign of respect to the cook. One of my biggest pet peeves is when people let their food get cold. As a kid I couldn't understand why you were supposed to let roast beef rest before eating. I get it now, but anything other than a slab of roasted meat should be eaten now! Luckily as I watched the guy making my marquesita, it occurred to me that I should probably get a photo before stuffing it into my face. It was a very Homer — "Lisa needs braces" — moment. I was proud of myself. You should scroll back up the page and admire the pretty marquesita now.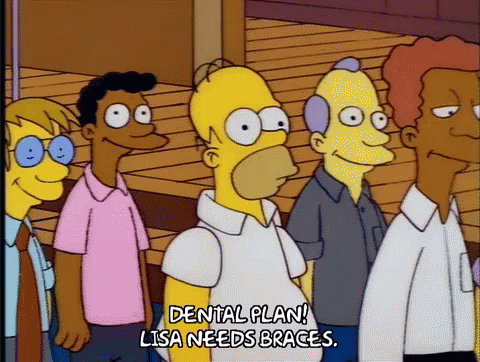 As that GIF is useless, here's a link to the Simpson's clip.
Completely unrelated to desserts is lentil soup but because I also have a photo of lentil soup, here is a recipe for Lentil noodle soup | Sopa de lenteja y fideo. I made this to use up the ingredients in my Mérida kitchen. While it does not have Edam cheese in it, it does use the wonderful habanero pepper.
---
Mérida Galleries
Check out a few collections of photos taken in Mérida, Mexico.